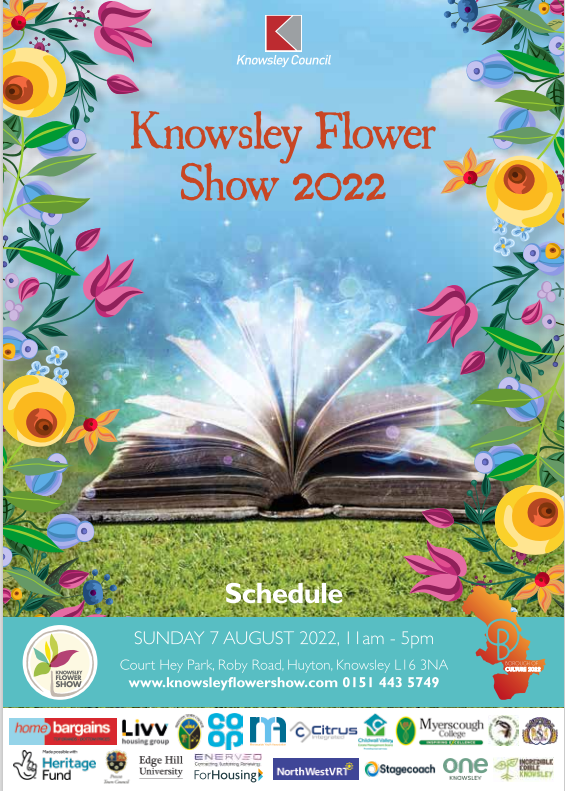 Knowsley Flower Show Schedule 2022
Take a look at the schedule and find out what you can expect this year
Excitement is building for this year's Knowsley Flower Show and Feelgood Festival. Taking place on Saturday 6 and Sunday 7 August 2022, plans are underway to make the events bigger and better! We know our visitors and partners have missed the event and this year we are hoping the events will be a highlight of Knowsley's year as Liverpool City Region's Borough of Culture.
In anticipation of the Knowsley Flower Show, which is in 24th year, you are invited to start sowing and growing for our show. We know more people have taken an interest in gardening over the last few years so why not grow and enter our show and see your exhibit in the giant floral and veg marquee on site?  Please see our schedule detailing all of the classes. Don't forget there is help at hand; our Knowsley Flower Show Committee can support you step by step and our Show Secretary's welcome in the schedule gives more details.  You don't need to be an experienced gardener, anyone can enter the show, and there are novice and children's classes too.
Also traders and craft stallholders are invited to get in touch and be part of the show so please email Carla.simkin@knowsley.gov.uk for details of trading opportunities.
The Knowsley Feelgood Festival will take place on Saturday, 6th August from 11am-5pm at Court Hey Park, Huyton with lots of fun ways to help improve health and wellbeing.  Since its launch in 2015, the event has grown considerably and in 2019 attracted over 4,000 visitors.  The event demonstrates Knowsley Council's commitment to improving the health and wellbeing of everyone in the borough. Packed with activities, performances and experiences to help improve your health and wellbeing, the festival has something for everyone – whether it be physical activity, relaxing and de-stressing or exercising the mind.
Enjoy a virtual tour of our top growers' gardens
With the Knowsley Flower Show unable to go ahead in person in 2021, we asked some of the show's most successful exhibitors to show us what's gowing in their gardens instead…
View our gallery of sunflowers!
Take a look at all the wonderful photos you've sent in for our Knowsley Sunflower Challenge!
Thank you to all of our partners and sponsors