Take a virtual tour around our top growers' gardens!
This weekend, when the Knowsley Flower Show should have been taking place, we have instead prepared a virtual treat for your eyes!
Although you cannot browse the show's floral marquee this year, we've asked some of our top growers to open up their gardens virtually and show us what they've been growing in 2021.
At this time of year, thousands of visitors to our show usually enjoy taking in the sights and smells of a marquee packed with colour, scent and vibrancy. We would have vases full of stunning cut flowers, huge marrows, juicy tomatoes and awesome onions!
We know that so many people have taken great solace from their gardens during these past two years, and the enthusiasm for growing your own and bringing wildlife into our outdoor spaces has never been higher.
So, sit back and enjoy a virtual tour of our growers' gardens. All those featured here are regular exhibitors at the Knowsley Flower Show, and have won hundreds of prizes between them over the years.
Not only have they shared their gardens, flowers and crops with us for this virtual tour, they've also shared their top tips with us, too.
We hope you enjoy taking a look…
Derek Brookes
"These are a few pictures of what I have grown recently. They include the first of my runner beans (Stenner) and the first cauliflowers (Cheddar).

I have plenty of annual flowers on the allotment that I grow for cutting and showing and here are some I brought some home and put in a vase. There's also a vase of dahlias, also grown on my allotment."
Helen Dolan and Richard Burniston
"We're still growing for the pleasure of it and looking forward to the return of the Knowsley Show next year to share some of what we like to grow."
Keith Silcock – Flower Show Manager
"This cabbage is a variety called Filderkraut and was grown on the allotment. It started off with a high nitrogen feed and later I gave it plenty of high potash feed (tomato feed) to help it grow to this size."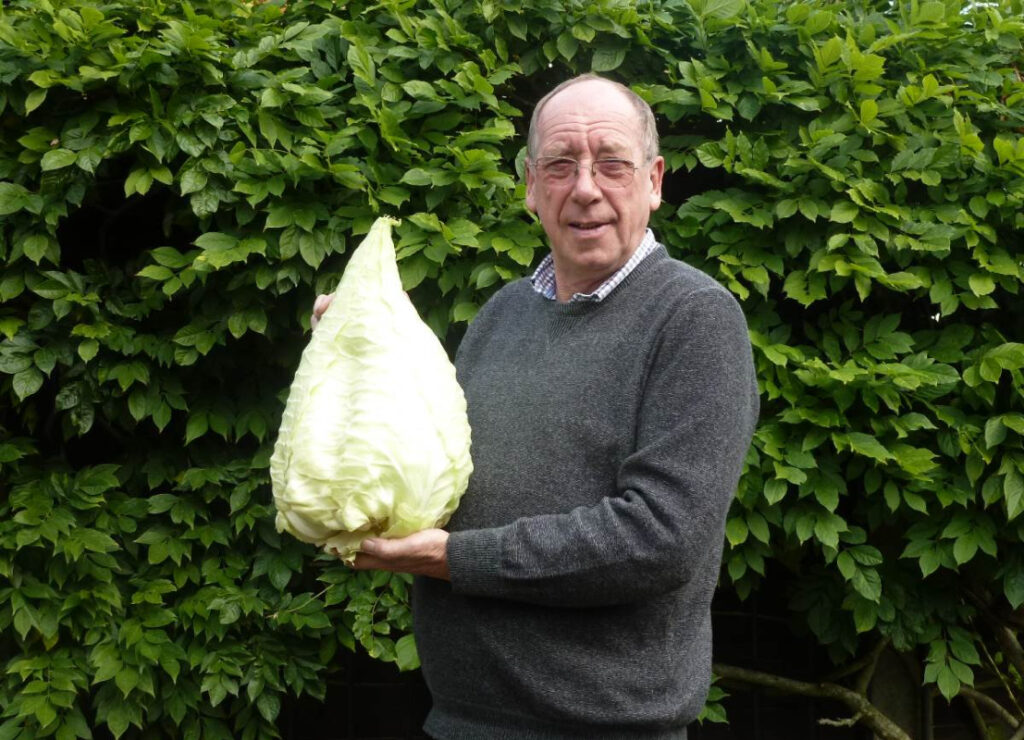 "Here are some of the onions I've grown this year. And a funny shaped potato, which reminds me a lot of Olaf from the Disney film, Frozen!"
Bob Sumner
Bob is a Flower Show Committee Member and a top geranium and pelargonium grower. This year, despite having no show to prepare for, Bob has been enjoying his garden, growing beautiful flowers and creating stunning hanging baskets.
"My top tip for growing flowers, especially dahlias, is to use blood fish and bonemeal in the hole where the plant will grow."
Barbara Silcock – Treasurer
"This year I've grown these different coloured calla lilies in containers on the patio. They have lovely coloured flowers and beautiful varigated leaves, too.

"I've also been growing these lovely pink tree lilies, which are so called because of how tall they will become. This plant will eventually grow to about five feet tall!"
Ray Weeks
"Here's a few photos from my garden. We'll miss Knowsley Flower show again this year but look forward to exhibiting again next year!"